From Desk of Hon'ble Vice Chancellor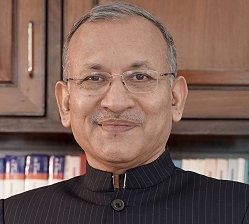 Prof. Dr. Vivek A. Saoji
Vice-Chancellor,
Bharati Vidyapeeth (Deemed to be University), Pune
Dear Students,
It is a matter of immense pleasure for me to be a part of the Bharati Vidyapeeth (Deemed to be University) family as its Vice Chancellor. I take this opportunity to welcome students joining the School of Distance Education in undergraduate as well as postgraduate programmes.
As per the All India survey on Higher Education conducted by the Ministry of Human Resource Development, 2013, the Gross Enrolment Ratio in Higher Education in India is 20.4, for 18- 23 years of age group. The GER for male population is 21.6 and for females it is 18.9. Distance enrolment constitutes 12.5% of the total enrolment in higher education. The purpose of Distance Education is to bridge this gap and increase the accessibility of education, beyond the boundaries of a number of factors such as distance from the centres of education, social taboos especially for the female students, and also the housewives, bindings to acquire education while in job, or other such logistics, which, at times, are a hurdle to access higher education in India.
The School of Distance Education of the University is committed to offer the opportunities of higher education to such students through the distance education mode. The university is approved to undertake the distance education programmes offered by the School of Distance Education. Our objectives are to reach the unreached and to make education accessible to all sections of the society.
Distance Education has been accepted as an effective way of learning and with the ICT enabled facilities such as virtual class rooms, etc.; it has taken the shape of a robust learning platform. We, at the School of Distance Education, have a dedicated e-connect online communication channel to ease out the process of internal communication in order to facilitate students through e-learning. The e- learning environment of our School of Distance Education has developed effective communication channels between study centres and the respective students. Also, we have created provision for additional online supplementary study resources, such as videos, slide shares etc. for our students of Distance Education.
I extend a very warm welcome to all the prospective students of the School of Distance Education. I, on behalf of the University, wish and assure you a pleasant learning experience, both, off campus as well as on the campus.
My best wishes for a successful career.
Prof. Dr. Vivek A. Saoji